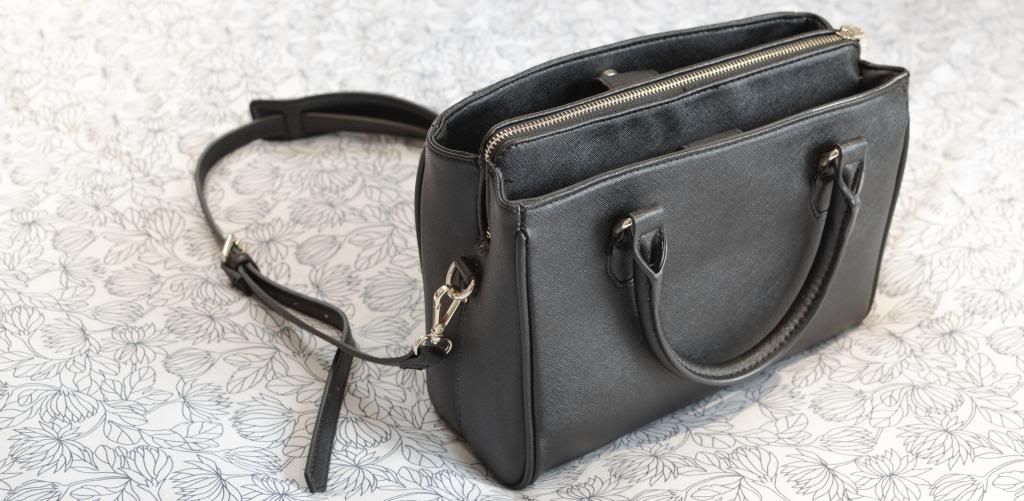 Mini Office City Bag £29.99
If you've been reading for a while you may remember that around this time last year I ended up buying the very popular
Zara Office City bag
 under the pretense that it would be perfect for my trip to Hong Kong. I was
so
very wrong, however, because it turned out to be incredibly bulky and awkward to carry for long periods of time because of it. Don't get me wrong, I still liked it and felt as though I was finally part of the
Office City Bag Elite
whilst toting it around, but there's only so much an inner arm can take. And Lord knows that a metre-long shoulder strap is useless on a bag the size of an ironing board.
So, can you imagine my excitement when I noticed that Zara were selling a
MINI version
of this bag!? At £29.99 it comes in much smaller and much cheaper than the original, though it is missing the two extra zipped compartments that the larger version has. And I really miss those. As much as I like this smaller version and find it easier to carry, I am completely paranoid that everything is going to be snatched when I use it, so I had to take some
serious security measures
and punch a hole on the inside
(I bought a tool specifically for this -__-)
and into my purse, so that I could attach the two together with a chain.
I KNOW
.