Hullo,

On Saturday the 14th of April just before 12am, I placed an order for a Cambridge Satchel Company 'Batchel', and it FINALLY arrived today after 26 patient days of waiting-- as the bags are handmade, CSC do state that the bags can take up to 30 days to make and ship, but I did not-so-secretly hope that mine would arrive a lot earlier. My heart nearly jumped out of my chest when I got an e-mail from CSC yesterday saying that my order had finally been despatched and was on its way to me with FedEx Next Day Delivery!

Before placing an order for the bag (as a birthday present from my mom), I travelled to the dusty corners of the internet and back in an attempt to find a useful review of the Batchel, but alas, it's surprisingly difficult to find many of any substance, despite the massive following that CSC are quickly gaining. Granted, I'm not in a position to give a 'proper' review yet as I haven't used it properly, so my intention here is to provide readers with a good amount of pictures and a clearer idea of the size and what it's capable of holding, because if you are anything like me, you won't/don't have the opportunity to go and see one in the flesh before buying online.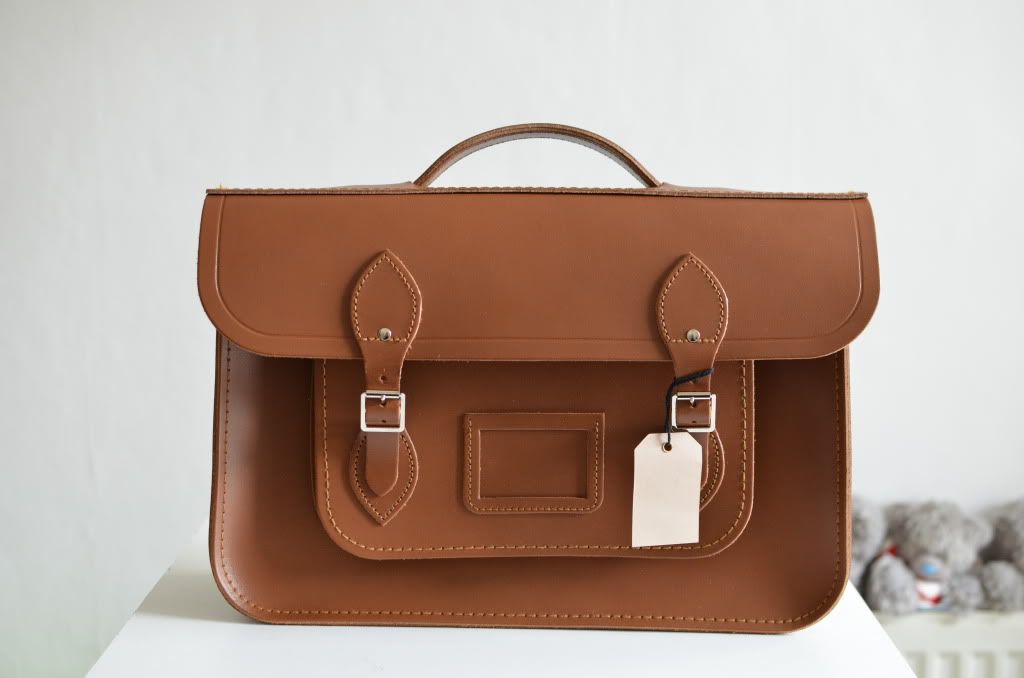 15" Cambridge Satchel Company 'Batchel' in Vintage Brown
This bag is absolutely beautiful. It's incredibly well made and looks very expensive. The whole thing feels very, very luxurious and the vintage brown colour is lovely. I was pleased to find that it's also a lot lighter than I expected after hearing quite a few people comment on the product's weight; although, it may just be that I've become accustomed to weighty leather after carrying around my slouchy leather ASOS satchel day in and day out lately.
Before placing my order, I was a little concerned that the 15inch bag would swamp me, because some of the articles/reviews I did stumble upon seemed to suggest that nobody under a certain height should get a 15". Rubbish. Rubbish. Rubbish. I'm 5'5" and I love it. I would still love it if I was 4'11". It really irritates me when people try to put height/weight/whatever limits on what people should and shouldn't wear or use. Such tosh. If you need a roomier bag and will actually be using the Batchel for anything practical, I would definitely suggest going for the 15", because I'm not entirely sure how you would fit much else in smaller sizes (unless, unlike me, you don't carry much around).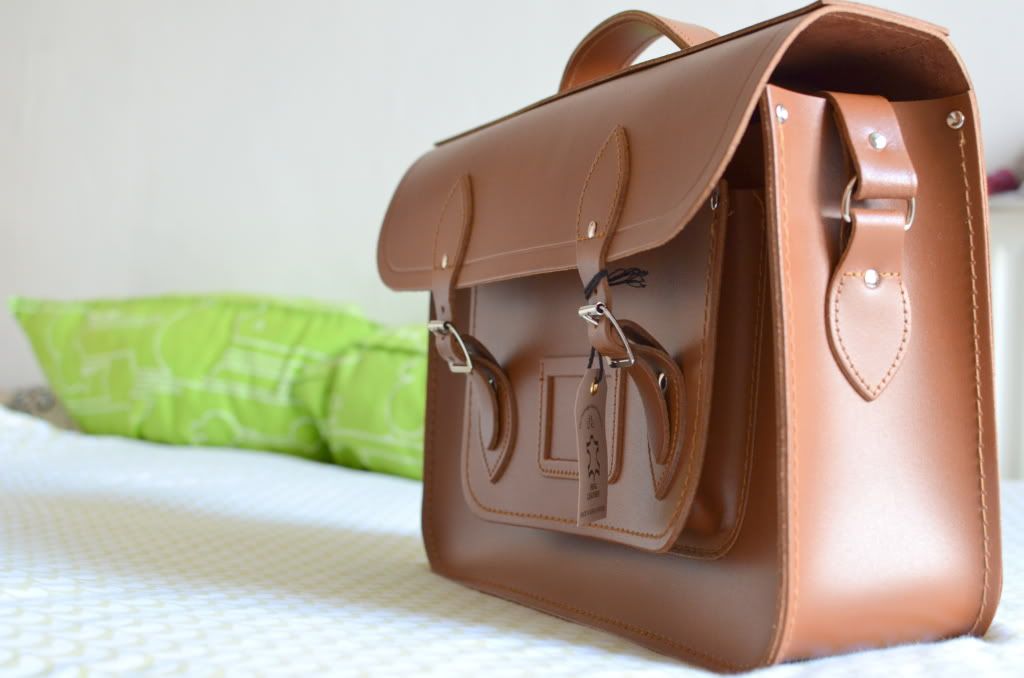 The Batchel is described as being 10cm wide at the base, and indeed, when considering it from the outside, the Batchel does look quite roomy. At first, looking at it from the outside, it seemed as though my DSLR would fit, but in actual fact, it doesn't have a chance of fitting without extreme, unsightly bulges. Due to the stiffness of the leather, and the way that they bag is stitched, you actually loose about 2-3 centimetres of that width on the inside, meaning that the total 'usable' width inside of the bag is around 7.5cm. This isn't really an issue for me (although I would love to be able to fit my DSLR in there) because CSC does specify that the measurement is taken from the base and I expected that it would be significantly less spacious inside.
Inside of the bag: this picture shows you how reduced the space is once you look inside the Batchel.
Although I'm quite aware that the real buckles will get tedious and frustrating at times, I actually love that they're not imitation buckles/magnetic buckles/clip buckles or anything like that, and besides, I hear that through time they become easier to do and undo because the leather becomes softer.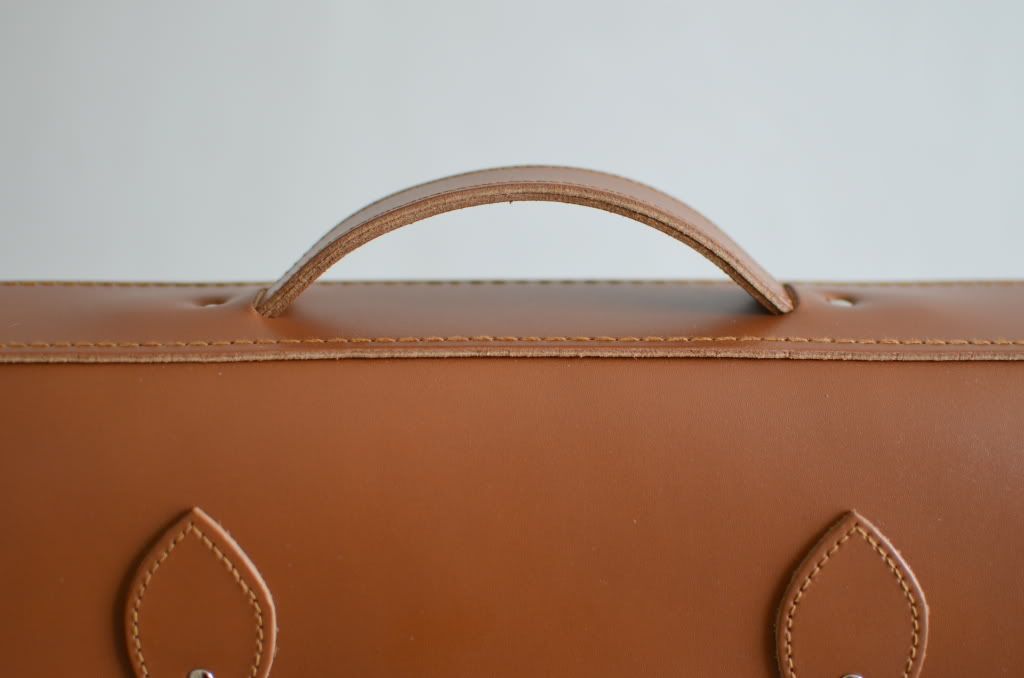 The handle: The CSC Designer Batchel also comes with a handle, however, the style is quite different not only in colour, but in the formation of the handle. On the original Batchel you don't get the top handle panel, which I feel makes the whole thing look a lot more pulled together and structured.
Cambridge Satchel Company 'Batchel' holding an A4 folder.
You can quite easily add an A4 folder plus a few other things (purse, pencil case, phone, ipod) in the batchel. Although I didn't picture it buckled, it buckles just fine with the folder in it. If anybody would like to me to "test" out things that will fit in the bag, then I'd be happy to do that providing I have the object or something of a similar size.
The inside of the Batchel isn't lined, and for that reason you don't have the little pocket most bags normally have for mobile phones/travel cards/bits and bobs, etc.; however, you do get quite a roomy front pocket which makes up for the lack of inner pocket.