'Where there's tea, there's hope.'

~ Arthur W. Pinero
Hai guyz
On Saturday after mine and my boyfriend's failed attempts at geocaching, we made our way into the Oracle and I ended up spending more money :( I spend a lot for a girl living off her Student Loan, with no job and no overdraft. I should be ashamed of myself. I should also be ashamed of myself for not having started revision by now :-| I can't even remember the dates of my exams... But that's another story.
I was strolling past Whittards when I noticed these little easter bunny spoons in a sale tub! There were only two left and of course I grabbed them. 75p each! I couldn't resist and I also ended up buying some "Afternoon Tea" which is kind of similar to Earl Grey. Ever since my house mate offered me a cup of Darjeeling tea I've been besotted by lighter tasting varieties and so I thought I'd try this out. Ceylon is another favourite. I can barely stand the taste of an English Breakfast since this addiction came about! I'm not a huge fan of Early Grey and was skeptical about the bergamot and whole zesty taste, but the the jasmine appealed to me. I prefer teas with milk-- despite my being taken with Twining's Green tea and Jasmine not so long ago-- and could only find other jasmine scented teas which weren't really suited for milk All in all, a nice tea. Would drink again (I'll be damned if I don't drink again, £2.50 for 50 tea-bags!)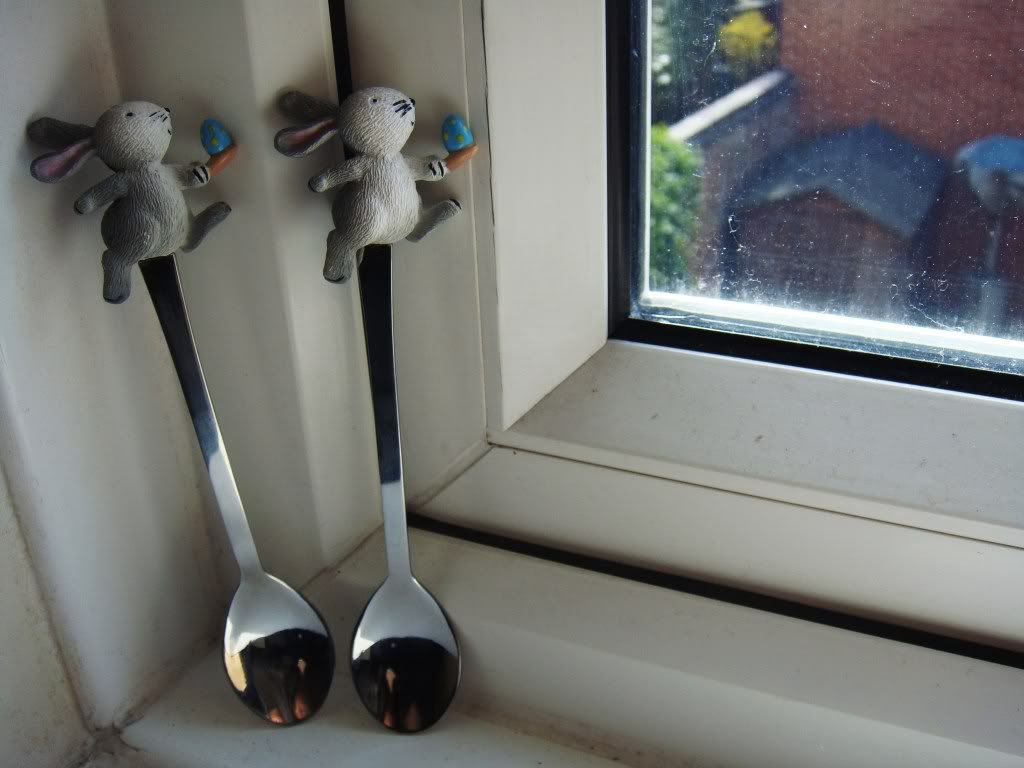 Next up, I found myself in Boots. Well, Boyfriend and I found ourselves in Boots. We needed supplies, but to get there we had to walk through the isle of dreams filled with Nails Inc. polishes, different brands of make up brushes and a beautiful collection of items by Celia Birtwell. After wiping a slither of excitement-induced drool for my chin, I talked myself out of picking up everything off the shelves but allowed myself one thing: this brush wrap! You'll have to excuse my shitty picture; I couldn't master the re-tying of the roll at the time and so it looks a bit messy. It's tempting to cut it off and sew a couple of buttons in instead. I may just do that :) I figured I could do with another brush roll considering I'm always travelling and my brushes tend to get a bit mushed out of shaped in my make up bag.There is a strange thing about this roll, though. In the second picture you can see two flaps which cover the brush heads and the underside of the flap is a transparent plastic, however, the actual part of the roll where the brushes lay is not plastic, and so I don't see the point of a the flap of plastic if the roll is still going to get dirty on the other side? (if this makes sense). If anybody can explain this, please do enlighten me. Price: £4. All in all it's not too shabby.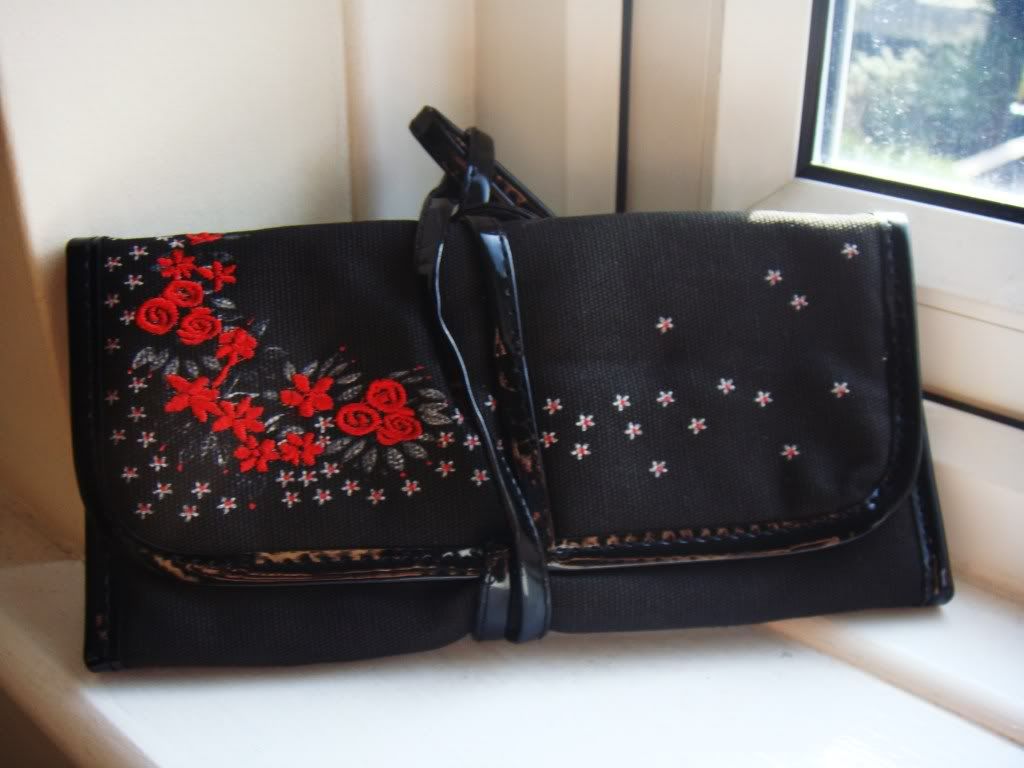 Say hello to my little friend... THE TANGLE TEEZER. Okay, so I was eyeing this up on ASOS.co.uk just before Christmas but never did get round to buying it. I saw it again in Boots on Saturday, and before I knew what was happening, my hand was reaching over to the shelf, grabbing this £12 piece of plastic, and placing it in my basket. TWELVE POUNDS. LAWD A MERCY. But it really is very nice :¬) My hair likes to tangle like a mo'fo' and so I've always wanted to try a product like this which would magically ease my tangles, and I have to say, I feel that the tangle tweezer really does get through my tangled mane more easily than any other method/product I've tried. If you a) get tangly hair quite often and b) have a spare £12 laying about, then I think maybe you should this give this a go.